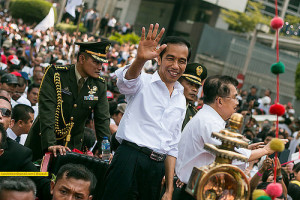 In 2014 Indonesia had an electrifying election, not unlike the one that saw Obama become President of the United States. In fact it has been said that the two presidents have a striking resemblance. Here are ten cool facts about a really cool President.

Jokowi is the 7th president of Indonesia. A country with the second most plants and animals (after Brazil) in the world, and as of the writing of this article, the largest economy in Southeast Asia. He was born on June 21st 1961.

He has a degree in Forestry and his thesis was a study on plywood consumption. Indonesia is known for it's rich rain forests and in recent years they have had to struggle people illegally cutting down all the trees.

He was a Mayor of his home city of Surakarta which was crime ridden and poor. In a just a short time he cleaned up the streets, increased tourism, repaired infrastructure and transportation, and made it a shining example of progress.

Jokowi was so popular throughout Indonesia that he next became also the Governor of the capital city of Jakarta, the largest city in Indonesia. Famous for it's corruption, pollution and dense city streets, in the short time he was in office he made many of the same improvements as he did as Mayor.

He used to own a business selling furniture and Is the first Indonesian president to not come from a military or political background.

Jokowi loves rock and roll music. He has been known to hide his appearance and wear plain clothes so that he can go to concerts and rock out with his fellow citizens.

One day, a french man named Bernard was buying furniture from him. Bernard kept getting confused, because he was working with other people also named Joko, So Bernard started calling him Jokowi. He liked it and to this day President Joko Widodo prefers to be called Jokowi [link][1].

One of Jokowi's favorite things to do is something called Blusukan. An Indonesian word that means a surprise visit. He dresses in regular cloths and appears at markets or businesses. Usually not embarrass people, but to find out what they really think, without them feeling like they are being watched.In fact he's so well known for doing this that Mark Zuckerberg, the founder of Facebook, asked to go with him on a visit to Indonesia [link][2]. They went to a traditional market called Tanaha Abang. Performing Blusukan has made Jokowi very popular with regular people.

He is known for wearing a red plaid shirt instead of a suite and tie. When he ran for Governor of Jakarta (Indonesia's capital and largest city) he raised funds by selling red plaid shirts instead of relying on political favors.

Jokowi routinely places minorities in key positions.

He has won multiple international acclaim and recognition for his leadership and effective policies as a Mayor, Governor and now President.
To learn more about this fascinating President, take a look at his Wikipedia page.
---
[1]: http://www.foxnews.com/world/2014/10/22/indonesia-president-clears-up-any-confusion-wants-to-be-called-jokowi/ "Fox News"
[2]: http://en.tempo.co/read/news/2014/10/13/055613977/Zuckerberg-to-Jokowi-What-is-Blusukan "Tempo.co"
photo credit: theglobalpanorama via photopin cc