Posted on August 14th, 2012 by Nat
The Cubiciti Kickstarter wasn't able to meat its goal, but the dream is not gone for Cubiciti creator, Addy Widjaja. Instead, he has decided to go ahead with plans to bring it to fruition. It is now possible to order your own Cubiciti play set directly from the Cubiciti Website. (Read on …)
Posted on August 13th, 2012 by Nat
Isn't it cool how it's possible to actually make a 3d-printed object? Even cooler that printouts are actually helping people like this little girl who now is able to have 'magical arms'.

(via: MSNBC)
Posted on June 8th, 2012 by Nat
I think most kids would fall in love when they saw this awesome Pirate Ship Playhouse. My kid did.

This 23′ tall Pirate Ship Playhouse is sitting on a real hollowed-out tree trunk.
To get inside, there is a ladder inside the trunk leading to a trap door, a the net on one side and a staircase on the other. This 12,000 lb Playhouse is 26′ in length. (Read on …)
Posted on October 24th, 2011 by Nat
This makes me smile every time. These amazing animated Halloween lights are somewhere in Riverside, California. The window pumpkins and lawn lights are all synced to LMFAO. I Love it

There's also one from The Nightmare Before Christmas if you fallow the link below.
Posted on October 14th, 2011 by Nat
I can see all the possibilities for what I could do with our tiny space. I'm sure a lot of New Yorkers would have good use for many of these also. Hmm…. which one is good for my son's tiny bedroom?

Posted on September 7th, 2011 by Ani
This is Berkeley-based artist Gregory Kloehn. For the record I have a house/home. Not a big one but I like it. What I find interesting is this question of what makes a home.
Posted on May 4th, 2011 by Nat
It's amazing what Sterling Johnson can do with bubbles. When I'm able to make a bubble the size of a cantaloupe, I thought I did awesome.

I never thought to actually do so much more with it. I'm wondering what his 'special ingredient' is to make these special bubbles.
Posted on April 26th, 2011 by Nat
Well… that's if you're short enough to fit in this, the coolest & most fun bed. You can play on one of the pages.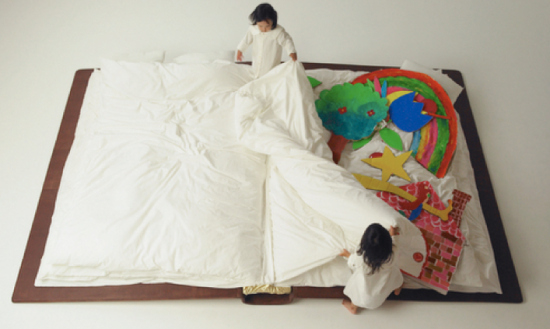 Posted on April 12th, 2011 by Nat
It's hard enough for me to make great long lasting tiny bubbles & this guy makes giant ones. I wonder what 'special ingredients' he puts in his giant bubble solutions

Posted on April 11th, 2011 by Nat
Who could imagine that everyday plastic stuff could become this cool looking 'city'? This Plastic City was made by, Bang-yao Liu, the same artist who did the 'Deadline, the Stick'N Came to Life' stop motion.
Next Page »